--Following a long campaign, lasting several months, my home town of Helmsley has been awarded the title of "Best Market Town in Great Britain"
Of course, we knew it all along but it's good to know that the judges agreed.
So if you fancy visiting me in my workshop you'll find lots more to do in the town as well!
Enter the main shop by clicking on the picture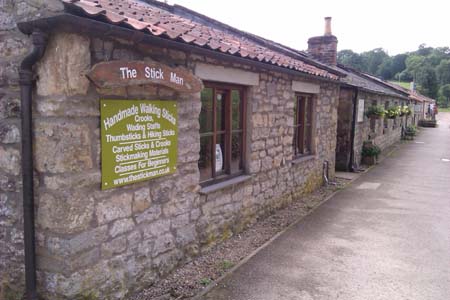 -----Find us on Facebook

------------
Or click on one of the pictures below
to enter The Stick Shop or The Stickmaking Materials Shop

CONTACT US You should email to arrange a visit if you're coming far.
Shop location and phone number, how to find us and a map
Find us on Facebook

and Like our page please!
Information Pages FAQs, Terms of business, how to place an order, postage etc.
Online Shop Pages
Order securely online using cards, UK cash or cheques.


DIY Stickmaking materials Components for those wanting to make their own sticks.
DIY Stick kits Complete kits with all materials needed to make your own sticks - great gifts!
General purpose sticks and crooks in wood and horn for walking and hiking.
Hand carved sticks featuring dogs, birds, animals and fish.
Picture sticks Stick with a photo or picture of your pet (or anything else) included.
Horn Handled sticks and crooks using Ramshorn, buffalo horn and cow horn.
Wading Staffs for anglers.
Engraved collars to personalise a stick for yourself or as a gift.
Stick Making Classes - have fun learning to make your own sticks
Gift Vouchers - buy gift vouchers so friends can make their own purchases
Interesting Reading
Mail order (UK) price list available - please e mail and ask for Stick price list OR DIY price list.
Stickmaking as a hobby - hints and tips on making your own sticks
Stickmaking Forum - join our forum and ask questions and get answers about stickmaking. There's more information here than in any book on the subject - 300 members world-wide!
FREE MEMBERSHIP FOR OUR CUSTOMERS!
Discount Code (click here if you have been given a code to use).