Carved Dog Stick - READ THE ABOVE INFO
Any breed (or cross breed) from your own photo's if you want particular markings etc. I have successfully carved over sixty five recognised breeds - and many crosses - so far. I've recently had one complaint that the stick did not look exactly like the owner's dog - if you want a photo of your dog then please look here as I can't carve a piece of wood the way a camera can take a photo! Please don't order if you expect an exact likeness.
The head is carved on top of a stick - more practical for a longer 'hiking' type - not particularly suitable as a handle for a shorter stick (cane).
Example: Red Setter, head carved on top of stick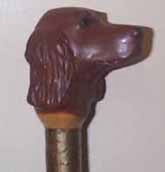 More dog stick examples below - I have carved over 70 breeds of dog so far!
These are just a few examples of those I have made in the past, but any breed will be considered.
You should expect at least six months waiting time for these I'm afraid - each one takes around 2 to 3 weeks and I have a long waiting list!